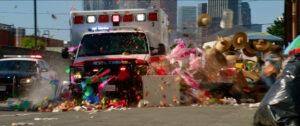 AMBULANCE screams its siren on Bluray
Jeri Jacquin
Coming this week on 4K Ultra HD, Bluray and DVD from director Michael Bay and Universal Pictures Home Entertainment is the chase with an AMBULANCE.
Will Sharp (Yahya Abdul-Mateen II) is a struggling veteran trying to get medical help for his wife. Receiving no help on the phone, Will keeps the family calm but wants to go visit the one person his wife wants him to stay away from – his brother Danny (Jake Gyllenhaal).
Needing money, Will turns to Danny knowing his adopted brother is a bit of a criminal. Oh heck, he's a LOT of a criminal and all he has to do is charm Will to agree to help him. The payout is a bank swipe worth more millions than either can count.
On the other side of town, paramedic Cam (Eiza Gonzalez) is hard at work at her job. Jumping from call to call, his driver tries to understand his motivation and distance. When the bank robbery goes from bad to worse, she recognizes the gunshot and walks towards him. They find an officer on the ground and get him into the ambulance.
Officer Zac (Jackson White) is in no condition to help when Danny takes the ambulance and its occupants hostage. Law enforcement begins to respond under Captain Monroe (Garret Dillahunt) and the chase is on. Unsure what they're dealing with, FBI agent Anson Clark (Keir O'Donnell) knows exactly who Danny is and what he's willing to do to get away.
Danny asks for all kinds of favors while Will tries to help save Officer Zac and save Cam from getting hurt. Choices will have to be made and both men are ready to make them. It's not a good day for criminals or law enforcement when they're chasing that particular ambulance.
Gyllenhaal as Danny is witty, lively, charming, and unafraid to use any means necessary to get what he wants. Dragging his brother Will into the mess isn't exactly what he would have wanted but sees it as a way to help his brother. In a weird way, I love Gyllenhaal in this role because of the way this character's mind works and the madness that comes out of his mouth.
Abdul-Mateen II as Will wants one thing and one thing only – help for his family. Knowing that he needs Danny's help hurts as much as what's going to happen for the rest of the day. Danny is a last resort but leaves Will no other alternative, or so he thinks. Abdul-Mateen II gives his character something his brother doesn't have – a conscience.
Gonzalez as Cam has her own reasons for being naughty and she's not about to share them with anyone. She wants to do her job, do it well, and go home at the end of the day. Gonzalez gives his character a quick think under paramedic pressure who keeps a close eye on everything that's going on. Confronting Danny is not a good idea but Gonzalez gives us a girl who will stand up.
Dillahunt as Captain Monroe sees what happens as a bit of a steamy mess as Danny and Will seem to take over the town. It doesn't take a lot of nerve, but it certainly gives it in bite-size pieces. O'Donnell as Agent Clark tries to communicate that he knows about Danny's tastes, his past with the law, and why he thinks the way he does. Trying to stay one step ahead is exhausting, but O'Donnell sees a shocking end to it.
Other cast members include Olivia Stambouliah as Lt. Dzaghig, Colin Woodell as EMT Scott, Moses Ingram as Amy Sharp, Cedric Sanders as Officer Mark, Jesse Garcia as Roberto, Jose Pablo Cantillo as as Jesus, Wale as Castro, Devan Chandler Long as Devan 'Mel Gibson' Long, Randazzo Marc as Randazzo, Victor Gojcaj as Victor, Briella Guiza as Lindsey, and A. Martinez as Papi.
Universal Pictures Home Entertainment has just added an amazing movie to its library and made it available for all to experience and relive in our own home theaters. There are movies of all genres available, from scary to drama to family movies. To learn more about what they have to offer, please visit www.uphe.com.
MOVIES ANYWHERE allows viewers to download the Movies Anywhere app. With this, you can watch movies by downloading or streaming them on your favorite device using a digital code. For more information about Movies Anywhere, please visit www.MoviesAnywhere.com.
Bonus features include Bayhem, Pedal to the Metal, Aerial Assault, Finding AMBULANCE, Chase Capital of the World, and Tribute to first responders.
AMBULANCE is a thrill ride from start to finish that doesn't let the viewer barely catch their breath. There's so much action that takes over the senses, leaving little time to ask many questions.
From a police shootout to an ambulance chase, there are twists that law enforcement doesn't see coming. There are also turns the bank robbers didn't seem to anticipate. Danny and Will take on a very intense paramedic in Cam, but there's a method to get the ambulance moving – preferably as fast as possible!
If you're looking for a thrill ride with a super big screen and a soundbar to test it all out, then AMBULANCE will give you it all and more. Prepare for the intensity and the chase and make sure to breathe!
In the end, it was supposed to be a simple robbery!
comments
comments