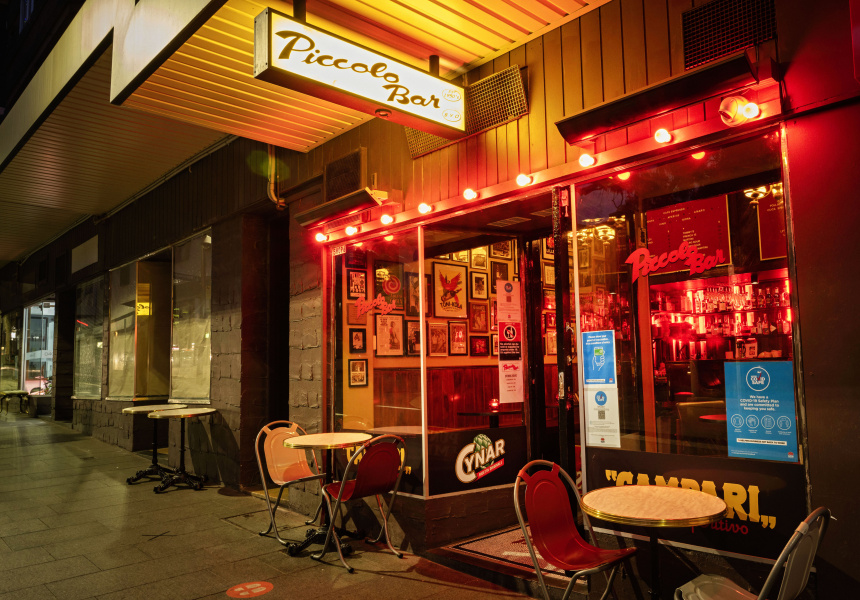 Longtime Sydneysiders may prick up their ears at the name Piccolo Bar. He has a hell of a reputation. For a time (70 years to be exact), the name referred to a famous hole-in-the-wall cafe attracting one of the most vibrant segments of the Sydney community.
Fast forward to 2020 and the oldest cafe in Kings Cross was in danger of closing permanently; Cue Bartender magazine and Spanton Media Group founder Dave Spanton (aka the White Knight of the Piccolo Bar). After months of planning and pandemic-related drama, Spanton finally opened Piccolo Bar 2.0 in November 2021, reimagined as an aperitif bar and restaurant.
To bring this new vision of the Piccolo Bar to life, Spanton commissioned a brand new layout. For OG fans, don't worry, his bones are still very much intact. Every detail – from vintage matchboxes to historic photographs of Kings Cross – has been executed to pay homage to the iconic site. Framed photos of the various celebrities who have visited the cafe over the years occupy all four walls; names like Jeff Buckley, Mel Gibson, Geoffrey Rush and the Red Hot Chilli Peppers. If only these walls could talk!
Santon brought 25 years of experience to the table (or the bar if you prefer) when it came time to put together the drink list. If the list of 17 items had a blurb, it would look like this: An old-fashioned bar serving old-fashioned cocktails; classic ingredients, nostalgic flavors, minimal effort. And from 4 to 6 p.m. (happy hour!), five of those drinks (Negroni, Garibaldi, Spritz, Americano, and Bellini) are only $12.
Accompanying classic cocktails, a selection of flavored wines and vermouths for more mature palettes. To aid in the decision-making process (and dust off some of the more obscure bottles on the top shelf), each type includes tasting notes and serving sizes.
Being such a small space (any idea what Piccolo translates into Italian?) it was difficult to come up with a menu of food that could be prepared with your elbows by your side. That problem was solved with small, easy-to-assemble bites like salted peanuts, Sicilian olives, Pollastrini Italian sardines and gourmet hot dogs, plus a weekly rotating cheese plate.