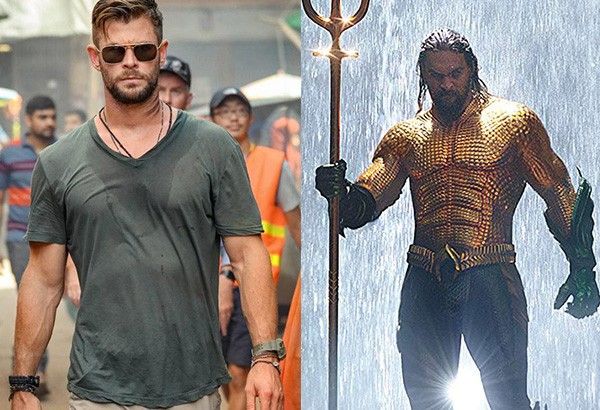 Good guys gone bad: Chris Hemsworth and Jason Momoa will play the bad guys
MANILA, Philippines — Jason Momoa and Chris Hemsworth are about to shed their good boy roles and try to be the baddest yet. The DC and Marvel stars are confirmed to play "villains" in the popular "Fast & Furious" and "Mad Max" movie franchises, respectively.
George Miller created Mad Max, the post-apocalyptic film series in 1979 which starred Mel Gibson in three successive films.
"George saw Chris [Hemsworth] first out of courtesy, then fell in love with the idea," producer PJ Voeten reportedly said in the book "Blood, Sweat & Chrome: The Wild and True Story of Mad Max: Fury Road."
"He's going to play totally against type, the main villain," Voeten added.
It was in 2020 when the 'Thor' star revealed he was cast with Anya-Taylor Joy in the 'Mad Max' origin story. Joy will play the main role "Furiosa".
Mad Max: Furiosa is due out in 2024.
Charlize Theron and Tom Hardy starred in the 2015 release "Mad Max: Fury Road," 30 years after the franchise's last was released in 1985.
Momoa, meanwhile, has confirmed that he will try to shake up the "family" when he plays the antagonist in the latest title in the popular "Fast & Furious" franchise.
"I'm gonna do 'Fast 10', it's gonna be fun…it's fun, I'm playing the bad guy, which I haven't been able to do in a while. Now I can be the bad boy. A very bad boy. flamboyant," Momoa said in an interview with Entertainment Tonight.
Like Hemsworth, Momoa said he was best known as a heroic figure in the DC Cinematic Universe as Aquaman from Justice League.
Fans will have to see how the oft-acclaimed "Sexiest Man Alive" will have to face Dominic Torretto (Vin Diesel) and his band of car enthusiasts/racers turned unlikely heroes against a villain brimming with charisma. and a head full of luscious locks.
"Fast 10" is set to hit theaters in May 2023.
RELATED: 'We break free': Jason Momoa separates from his wife, childhood crush Lisa Bonet