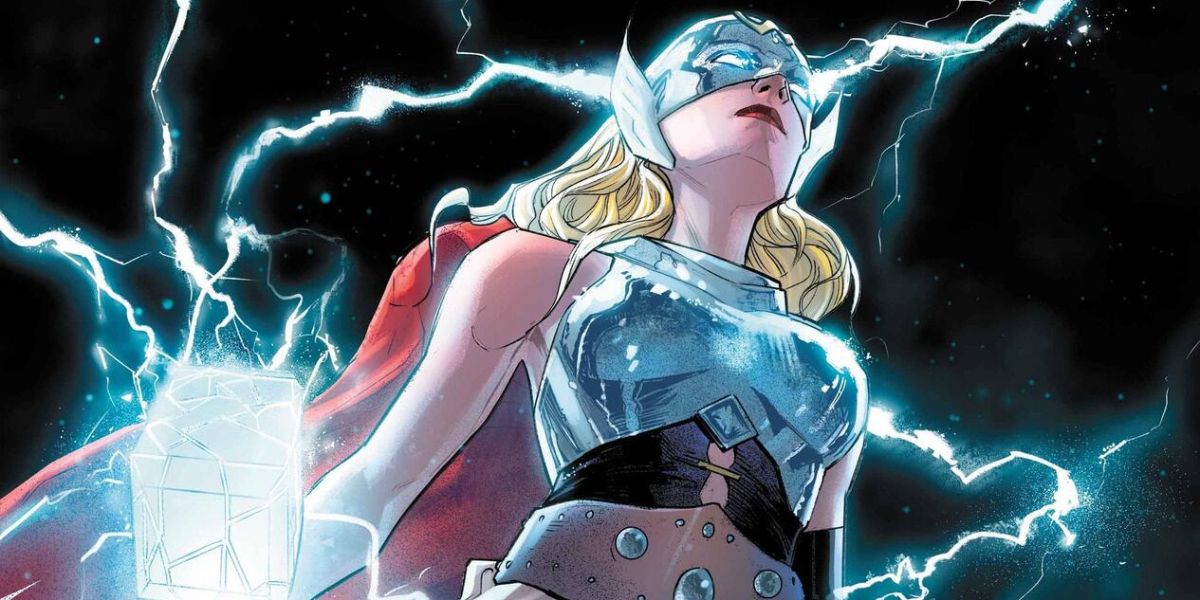 Jane Foster's Mighty Thor Returns in First Look at New Marvel Series
Jane Foster wields Mjolnir again in a first look at Marvel's Jane Foster & The Mighty Thor, out in June.
Marvel Comics has released a preview of the first issue of Jane Foster and the Mighty Thora five-part limited series that sees Jane Foster once again wield Mjolnir.
Jane Foster and the Mighty Thor comes from the creative team of writer Torunn Gronbekk, artist Michael Dowling, colorist Jesus Aburtov and letterer Joe Sabino. The first issue – slated for release on Wednesday, June 8 – features a main cover by Ryan Stegman, along with variant covers by Peach Momoko, Taurin Clarke, Carmen Carnero and Martin Coccolo.
RELATED: EXCLUSIVE: Thor & Hulk Face Off in the Marvel Universe's Deadliest Arena
In the illiterate preview pages, a bloody Mjolnir is found in Jane Foster's house. With Thor Odinson – God of Thunder and King of Asgard – missing, Jane raises the legendary hammer, once again becoming the Mighty Thor.
JANE FOSTER & THE MIGHTY THOR #1 (OF 5)
TORUNN GRØNBEKK (F) • MICHAEL DOWLING (I)
RYAN STEGMAN book cover
Variant Cover by PEACH MOMOKO
Variant cover by TAURIN CLARKE
Stormbreakers variant cover by CARMEN CARNERO
Variant cover by MARTIN COCCOLO
When Mjolnir crashes through the window of Jane Foster's apartment, she fears the worst has happened to Thor. As Asgard's greatest foes – including Hela, Ulik the Troll and the Enchantress – mount an assault on the Golden Realm, Jane must find Thor and save Asgard – even if it means she must risk it again. her life to become Thor herself!
32 PGS./Rated T+ …$3.99
Longtime member of Thor's supporting cast, Jane Foster first appeared in 1962 Journey into the Mystery #84. Amid her battle with breast cancer, Jane succeeded Odinson as God of Thunder in 2014 Thor: god of thunder #25. During her time wielding Mjolnir, Jane became known as Mighty Thor. As her time as Thor finally came to an end, Jane then took over the role of Valkyrie as part of the War of the Kingdoms Event.
RELATED: Marvel's Most Broken Thor Is Also A New Iron Fist
Jane Foster's Mighty Thor transformation will soon make its way to the big screen in Marvel Studios Thor: Love and Thunder. Slated for release on Friday, July 8, the upcoming sequel sees Natalie Portman and Chris Hemsworth reprising their roles as Jane Foster and Thor Odinson, respectively.
Written by Torunn Gronbekk, illustrated by Michael Dowling, colored by Jesus Aburtov and lettered by VC's Joe Sabino, Jane Foster and the Mighty Thor #1 goes on sale June 8 from Marvel Comics.
Source: Marvel
How to start reading Jane Foster's story before Thor: Love and Thunder
Read more
About the Author