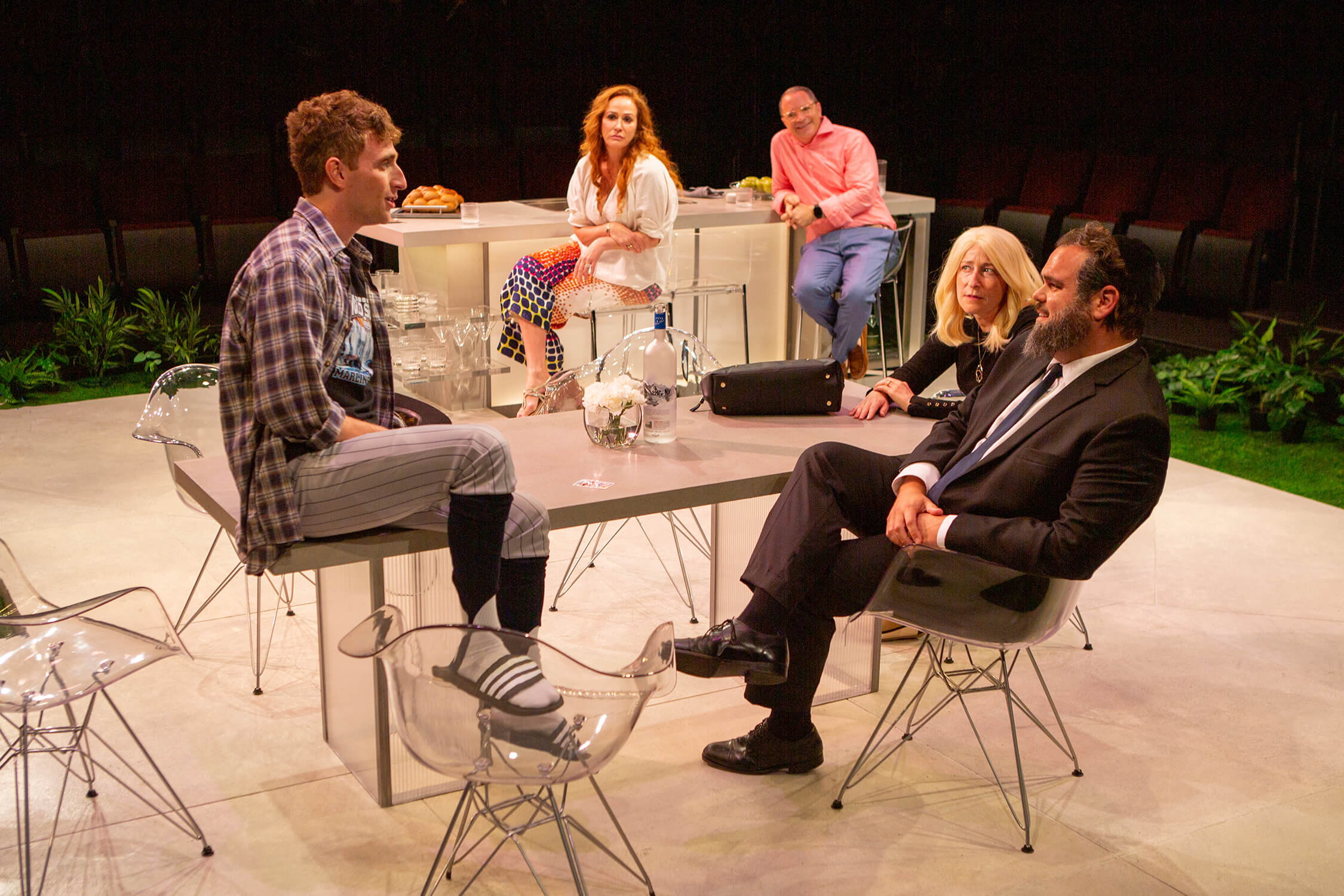 What he's talking about when he talks about Mel Gibson – The Forward
Joshua Malina has received rave reviews for his performance as a secular Jew in Nathan Englander's new play 'What Are We Talking About When We Talk About Anne Frank'. As for his actual comments as a proud, outspoken and, some might say, pugnacious Jew, his criticisms have been, well, not quite so kind. The most recent storm started with an essay he wrote on Mel Gibson for The Atlantic.
"Gibson is a well-known Jew hater. (Anti-Semite is too soft)," Malina wrote. "What does a guy have to do these days to get him on Hollywood's no-fly list." on Gibson's birthday, Malina made a donation to the U.S. Holocaust Memorial Museum, a donation he plans to make every year — "in honor of Mel Gibson should fuck off," I was told. -he says.
Malina argues that "Cancel Mel Gibson" — the title Atlantic Editors put on his essay — missed the point he was trying to make.
"I don't think the cancel culture really exists if someone like Mel Gibson is still working," he said. "It bothers me that 'Lethal Weapon 5' is being considered by Warner Bros. when its star – and I think is even being considered to direct – is a well-known anti-Semite, misogynist, homophobic and racist. Would love to see Hollywood holding people accountable. Is this someone we need to keep praising and holding accountable?"
The reaction to the piece, Malina says, was predictable. "When you shoot a high-profile anti-Semite in my experience, your opinion is validated very quickly, because a tremendous amount of anti-Semitism comes your way."
Part of the response was "serious enough that I received advice from experts in the field on how to avoid real harm," Malina said. "Most of it rolls on my back. In social networks, everyone is very brave behind their keyboard. I will not sleep in fear. I don't live in fear. I don't worry much, but there have been times when people have definitely made threats and I think in this day and age it's important to take threats seriously, even if it's unlikely they lead to anything.
Malina has a long and impressive list of credits that include a recurring role on "The Big Bang Theory" (college president Siebert), creating her own TV show ("Celebrity Poker") and podcasts (most recently the Chutzpod on the Jewish theme). But he's probably best known for his five years as Will Bailey on "The West Wing" and seven years as David Rosen on "Scandal."
In a 45-minute Zoom chat, Malina came across as smart, well-spoken and very funny.
He grew up in Westchester County and attended an Orthodox Yeshiva until high school.
"My parents created a Jewish home where we observed Jewish holidays and were instilled with Jewish pride," he said. "It's something we talked about, something we felt strongly. And we had instilled in ourselves the feeling of representing and not feeling intimidated by any anti-Semitism in the world.
The following conversation has been edited for length and clarity.
One of the interesting things about your career is that you've proven that it's not who you know but your mother knows.
I wanted to be an actor since I was little. i went to college [Yale]graduated in '88, moved to New York but didn't really have a plan for how it was going to turn out.
My mom said you really should call Aaron Sorkin, and when I asked her why, she said, "you know, he's Jewish, you're Jewish, he went to high school with your cousins." My first response was, "Is this how I'm going to become an actor? Am I just going to cold call the Jews? »
But, for lack of a better strategy, I took my mother's advice as a good Jewish son and called Aaron. We instantly became friends. He was quick to say, I wrote this piece. It will be on Broadway. How would you like to audition? I said, "Of course!" I'm a struggling actor and I auditioned and I'm sure without that friendship I wouldn't have been asked to do a part in 'A Few Good Men'.
You have had an enviable career. Why not play it safe?
It's a good question. When I started acting, I despised actors who always shared their political opinions or denounced this or that. I knew enough actors to know that this person isn't worth listening to more than anyone else, so I had a reluctance as a young actor to share my opinions on things.
Then I learned an important lesson around 1999 or maybe 2000. The Jewish Federation of Los Angeles invited me to come to a rally for Israel. The rally only existed to say that Israel had a right to exist, which didn't strike me as a particularly controversial view (at the time). And I said, "Sure, I'll come and set on the celebrity platform."
When I arrived, the people registering didn't know who I was. You know you're not a celebrity when people online don't know who you are and ask you to spell your last name. When I asked the Jewish Federation entertainment officer where the really famous people were, again she didn't know who I was. She said if it had anything to do with Israel, it was hard to get people to come. She said some of these famous Jews would donate money, but he felt giving a public face was risky for a career.
I don't want to congratulate myself for being bold or brave, because I don't think I necessarily am. I like to be honest about what I think. If we're talking about Israel and the Palestinians, I think it's filled with gray issues, but usually dealt with in black and white. So if I can engage in a little more nuanced discussion or a little more thoughtful discussion than what we often hear, I'd appreciate it.
Which brings us to your "Chutzpod" podcast. You just finished a long series of "The West Wing" podcasts. When your co-host Rabbi Shira Stutman asked you to join her, what was your reaction?
I just said no immediately — I didn't know if I had time to do it. It was just the unemployed actor who still thought I probably had a great job coming up. But a few days later, the whole controversy over Ben & Jerry's closing stores in Israel or the occupied territories was a deal breaker and Rabbi Shira sent me another email saying that was the kind of thing we were going to discuss. And that's where she got me.
As an actor – and I'm very comfortable with that – I say someone else's words for a living. I know I'm a small car getting a much bigger machine. I fell in love with podcasting because I can speak my mind and it's pretty heavy. For me, it's fun to be part of a Jewish conversation. It gives me the opportunity to explore my Judaism.
Let's talk about "what are we talking about". It's the most Jewish thing you've done. They are two couples. The women were childhood friends. One moves to Israel and becomes Haredi. She and her husband visit his secular but wealthy friends in Miami. It is based on a short story by Nathan Englander and partly focuses on intermarriage.
It's a deeply Jewish piece that resonates with me and speaks to me. It's very funny and meaningful. It feels like the theatrical version of "The West Wing" – that it has amazing writing and I'm having the best time of my life.
Do you think he has a life beyond San Diego?
I'd be amazed if it didn't. I don't know if I will be part of it. I know if I could only play one role for the rest of my life, it would be this one. I told Nathan Englander I would sign the deal to do it in a nanosecond. Taking this to Broadway would be a bucket list item for me.
"What We Talk About When We Talk About Anne Frank" runs through October 23 at the Old Globe in San Diego.