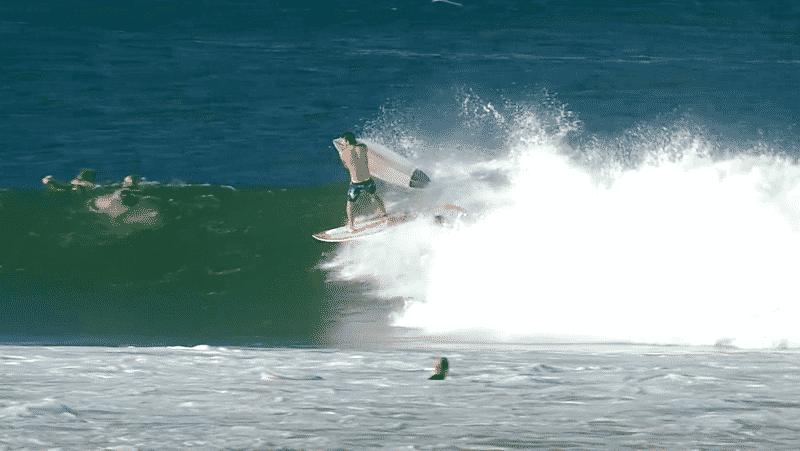 Wild scenes at Snapper Rocks in Australia as a former child star turned factory worker steals world champion Joel Parkinson's surfboard in the middle of the waves!
"He knew Sunset and Waimea like Kelly Slater knows Backdoor."
Iconic, legendary and somehow immortal big wave surfer Peter Cole, winner of the Makaha International in 1958, has died at his North Shore home, flanked by his wife Sally and his ninety-one-year-old son, Peter Jnr.
Ol Pete wasn't in excellent health, no one is in his late 100s, and on February 6, as Kelly Slater won the Blowjob contest at the age of fifty, Cole's heart gave out. and he died in his sleep.
"We all felt so lucky to share this final stage of his life with him and when he had a final surge of consciousness and energy on Thursday evening, we were able to enjoy his graceful charm and humor one last time. smart," said Pete Jnr.
I connected with surf historian Matt Warshaw to help understand the significance of Peter Cole's long life.
Surfing just lost the greats, right? Of course, most of us who listened to the Pipe contest wouldn't have known who he was. So tell me, tell us, who was Peter Cole and why was he important?
Peter was one of those bright-eyed California kids who dropped everything and moved to the North Shore right out of college in the late 1950s. Fred Van Dyke and Ricky Grigg did the same . Buzzy Trent went there a few years ago.
You write in the EOS that his "analytical mind told him the danger of big waves was exaggerated, he quickly gained a reputation as one of the most daring riders in the sport". Have you already spoken to him about it or has he developed his thesis?
Peter was an incredible swimmer, a college champion, and he knew almost from the moment he arrived in Hawaii that he could swim out of any situation. Besides, he spent so many hours there, for so many years. He knew Sunset and Waimea like Kelly knows Backdoor.
Ironically enough, he was blinded in one eye by his surfboard. Do you know the story?
I don't know the story, no. But looking at Peter's pictures today, I noticed again that one of his front teeth was also dead, so he took a few in his face for sure.
Is it true that he taught Gerry Lopez and Jeff Hakman when he taught at Punahou School? Do you know if he was a nice teacher or if he had a tendency to use the whip?
At one point, maybe 30 years ago, Peter was talking to Ricky Grigg about a development project on the North Shore. I forget the details. Other than that, I think Peter was perhaps Hawaii's most beloved surfer other than Duke and Rell Sunn. Loved, admired and respected on all levels. I don't know how he was as a teacher, though. Fred Van Dyke, I think, was the guy who brought flair to the classroom. Peter did not have the same gift for the theater as Fred. But I'd bet he was a top-notch teacher nonetheless.
He last hit Waimea in 1995 when he was sixty-five, but he was still picking up Sunset picks well into the two thousand, yeah? I like his point of view that you have to have a rich life outside of surfing or you'll walk away from your obsession.
I was just reading Peter's EOS page and here is the quote. "Those of my generation who devoted all their time to surfing are no longer in the line-up. For a surfer to ride well into old age, it is important that surfing is nothing more than a recreational activity. It should never be a person's entire life. I don't remember if it was Peter or Ricky who gave me this other knowledge about aging. I'm pretty sure it was Peter. The quote went something like, "At some point, the only way to keep surfing as you get older is to accept the fact that each year you'll be a bigger kook than you were the year before." Sounds easy, right? I was still a good surfer when he told me that, and I figured it was okay, I'd do what Peter said when the time came. But when I started to get worse, I couldn't do it. That's more or less when I stopped surfing. Peter really didn't give a damn about his surfing quality, or at least not in the last 40 years of his active surfer life. He just wanted to be out there, at sunset, in the middle of it all, and hopefully ride as a couple. To back up what he said, above, because Peter always had other things in his life, he never fell in love with surfing. The whole thing. Paddling, shooting shit with Bradshaw or whoever he was sitting next to in lineup, riding the waves, eating them, swimming for his board. Peter did it, and he loved it, until he couldn't do it no more. Greg Noll gave up. Buzzy Trent dropped out. Fred Van Dyke practically gave up. Peter and Ricky Grigg went the distance, and I think in a way the experience of surfing meant more to them in the latter stages of their lives than in their prime.
What can surfers who reach middle age and later life take away from Peter Cole's life?
Have a life outside of surfing. Don't be crazier than necessary, but accept the fact that your skills will plummet with age. I agree with everyone who calls bullshit the mantra "The best surfer is the one who has the most fun". Until you reach 60 or thereabouts, at which time the mantra is God's own truth.
(Subscribe to Warshaw's Encyclopedia of Surfing here.)